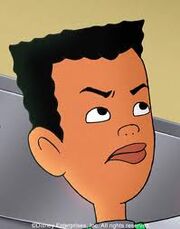 Vincent Pierre "Vince" LaSalle
is an athlectic member of the recess gang and a student at Third Street School.
Appearance
Edit
Vince is a tall kid,with black hair and he wears a green T-shirt with Number 1 on it.Buggy basketball shorts and two wristbands on each arm.
Personality
Edit
He cares a lot about his friends and he is very close to them.He has a superior running ability and an excellent basketball talent. He is also a talented chef. Vince also doesn't mind getting dirty.