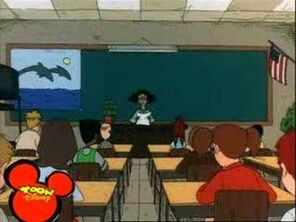 Episode Data

Episode Name:

The New Kid

Episode Number:

2 (1A)

Director:

Chuck Sheetz

Writers:

Paul Germain Joe Ansolabehere

Animation Director:

? (Uncredited)

Air Date:

September 13, 1997

Previous Episode:

Next Episode:
Gus Griswald moves to town, however he is forced to be known as "The New Kid" by King Bob until another kids moves in.
It's a new day in the Third Street School and the kids succesfully plan to change the school clock and recess came earlier. But in the door a new kid is introduced as he transfered from another school. His name is Gustav or Gus for short. TJ and his gang show him around apart from the rule that no one can talk to new kids for 48 hours. Gus gets a new nickname from King Bob: 'The New Kid' and everybody's calling him that,even Miss Grotke. The gang cant take it anymore and try to get his name back. Gus face King Bob and demands his name back. Bob agrees and Gus got his name back.
Gus makes his first appearance in this episode, as well as Miss Grotke.
Gus is voiced by Ryan O`Donahue (who also did the voices of Randall and Digger Dave) in this episode only. Starting with the next episode, Courtland Mead does the voice of him.