Episode Data

Name:

The Break-In

Episode Number:

1 (1A)

Director:

Chuck Sheetz

Writer:

Paul Germain Joe Ansolabehere

Animation Director:

? (Uncredited)

Air Date:

September 13, 1997

Previous Episode:

None

Next Episode
TJ Detweiler is stuck in detention for the entire recess period and his friends result to drastic measures to break him out.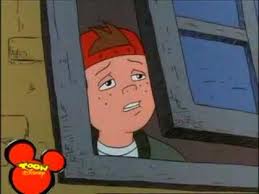 TJ cannot tolerate cafeteria's food and he plans with his buddies to reach at the kichen where the good food is in the fridge.But his plan goes to waste as the alarm goes off and get arrested by Finster.Finster locks him for detention in the cafeteria and no recess for the day. The gang go around the playground and ask kids to help them and together they come up with a great plan. But as the gang reach the cafeteria,TJ escaped already. The whole thing ended with TJ losing recess for the day but he is glad he has friends who can help him.
This was the first episode of Recess.
This episode featured the first appearances of the following characters: TJ Detweiler, Vince LaSalle, Ashley Spinelli, Gretchen Grundler, Mikey Blumberg, Miss Finster, Randall Weems, the Diggers (though their first names won't be revealed until later), Guru Kid, King Bob, various unnamed kindergarteners, Swinger Girl, Upside Down Girl, and Cornchip Girl (though unnamed at the time).
This episode premiered as part of the first day of Disney's One Saturday Morning, as well as Pepper Ann. Doug was already airing on ABC a year earlier.
This was originally the pilot episode of the series, created in mid-1996 to pitch the series to Walt Disney Television. The only difference between the pilot version of the episode and the episode itself was that the pilot featured many different character designs for most of the characters. The pilot in it's entirety was never seen to the public, but clips of it were seen on the March 1997 VHS of 101 Dalmatians (live action) for a preview of ABC Saturday Mornings for the upcoming September (to be renamed One Saturday Morning later on), along with a preview for 101 Dalmatians: The Series, as well as being shown on ABC station IDs during One Saturday Morning, however it depended on the location of the station.
Clips from this episode were put on a Recess preview on the 1997 tapes of Winnie the Pooh and Christmas Too and How the Toys Saved Christmas.