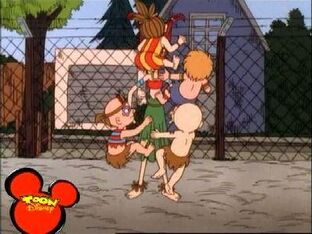 My Fair Gretchen
is Recess' 9th episode of Season 1.
After being told Principal Prickly plans to move her to Oppenheimer Elementary after scoring exceptionally well on a test, Gretchen worries she might not see TJ and the others again. Prickly suggest her to go and forget about her friends because she will make new ones. Prickly wants her to do that cause he will gain the place of the principal there. But because she dont wanna go,she starts playing dumb and wanna mess the whole thing up. A comitee is set for her but she answered all the questions wrong with Prickly threatens her to suspend her. But in the end she told all the correct answers and begs them not to take her away. In the end Gretchen named as a genius but stayed in this school.
Ad blocker interference detected!
Wikia is a free-to-use site that makes money from advertising. We have a modified experience for viewers using ad blockers

Wikia is not accessible if you've made further modifications. Remove the custom ad blocker rule(s) and the page will load as expected.