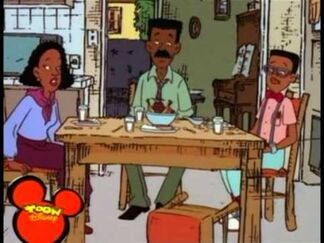 Big Brother Chad
is Recess' 8th episode of Season 1
Vince saves some litlle kids from Chucko,the meanest fifth grader in the school. But Jocko said his eighth grader brother would take care of Vince once and for all. Gus calls Vince the coolest ever but he says his brother Chad is the coolest and he will be coming to pick him up after school. Everyone in the school remember and admire Chad for what he did in their past and gather to wait for his arrival. Chad arrives but everyone is dissapointed with his looks and everyone thinks he is a nerd. The next day, the gang tells Vince that his brother is a geek, but he laughs and disagrees but later they convience him that he is in fact a geek. He starts to believe them and got dissapointed by his brother and gets scared that one day he might be a geek too. In the end Chucko's brother came to avenge his brother but Chad said if he doesn't let the gang go away he will never do his math again.
Ad blocker interference detected!
Wikia is a free-to-use site that makes money from advertising. We have a modified experience for viewers using ad blockers

Wikia is not accessible if you've made further modifications. Remove the custom ad blocker rule(s) and the page will load as expected.